I'VE NEVER BEEN SO HAPPY
I've Never Been So Happy
, with music and lyrics by Austin Experimental Punk Grand Wizard
Peter Stopschinski
(
Brown Whornet
,
Golden Hornet Project
), and book and lyrics by Austin Experimental Theatre Mascot
Kirk Lynn
, fluxuates freely between high art and Hee-Haw, treating both with respect. The music pits a "Grand Ole Opry" style West against an "El Topo" style West. The writing butts lyric poetry up against bar jokes with finesse. Directed by
Thomas Graves
and
Lana Lesley,
the evening challenges what it means to "go to the theater" in 2011.
WHEN
: April 21 - May 7, 2011
Thursday - Saturday at 8 PM
Additional Sunday performance on May 1st

10 performances only!
Friday April 22
-
Opening Night Gala
- see details below.
Saturday May 7
-
Special Closing Night Performance
featuring post-show concert by Austin's newest Alt-Country phenom
Chablis
(Best Local Show 2010, Austin Chronicle Critics Poll), and good eats from
La Condesa
- tickets $25
WHERE
: The Off Center, 2211 A Hidalgo, Austin, TX 78702
"The Rudes continue to deepen their creative process and challenge themselves in new ways. And that results in smart, terrific theater that takes us some place new." - Jeanne Claire van Ryzin,
Austin-American Statesman
review of December 2008 workshop production.
"BEST INVESTIGATION OF THE WEST: The Rude Mechs' funny, well-informed multimedia performance was a refreshingly queer interrogation of the West. - Claire Ruud, ...might be good (Fluent-Collaborative's contemporary arts e-journal Best of 2008)
This unprecedented evening of celebration and performance will include:

A pre-show toast with the Board and Artistic Directors of Rude Mechs
The world-premiere performance of our new western musical & transmedia shindig
And post-show
two-stepping with the cast and crew
with cash bar provided by
the side bar
Plus 75% of your ticket price is tax-deductible to the full extent of the law!
Your unwavering support has helped Rude Mechs have a spectacular year, including a premiere at the 34th annual Humana Festival of New American Plays, a wonderful, critically acclaimed tour of The Method Gun, and the development of a radical new play here at home.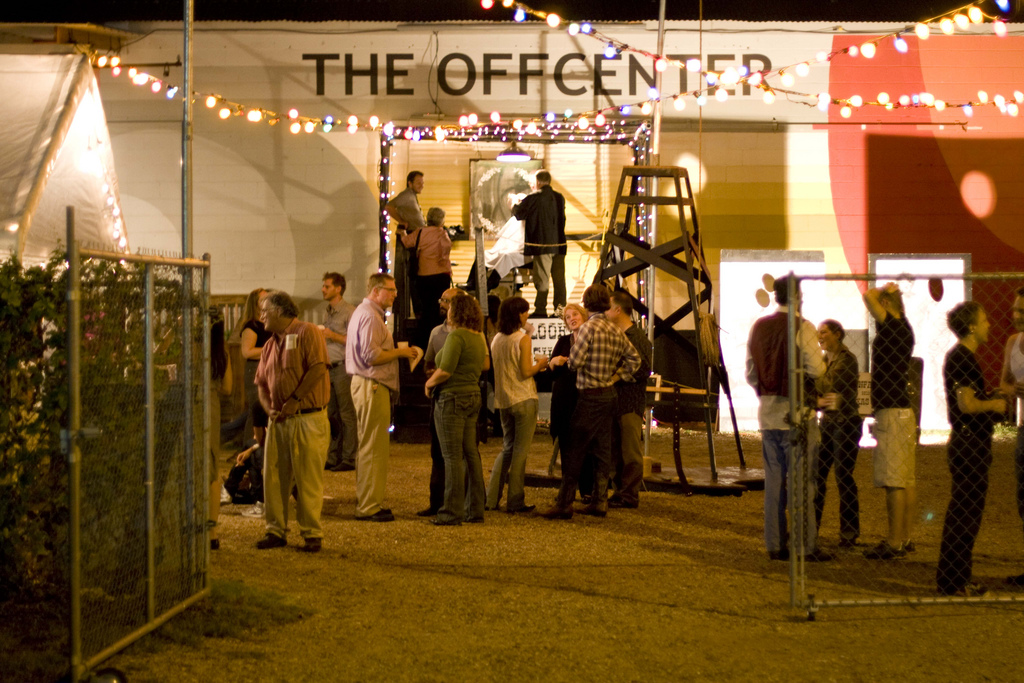 Come celebrate this world premiere in Austin with a company that is garnering high critical praise and building audience around the country.
Time Out New York
says of Rude Mechs, "They keep taking perilous theatrical leaps, but we are the ones to feel sweaty-palmed, nearly vertiginous exhilaration."
The New York Times
says Rude Mechs "...makes the Wooster Group look conservative."
Time Out Chicago
calls our work "...relentlessly inventive... "Beneath its zany, passionate surfaces lie some fierce investigations into the nature of art... brilliantly orchestrated"
The
Louisville Courier-Journal
calls us "..absurd and awe-inspiring."
Some facts about
I've Never Been So Happy
:
It is 1 of only 5 projects selected from a national pool for the National Endowment for the Arts New Play Development Program.

It received a work-progress-presentation at Washington D.C.'s prestigious Arena Stage at the New Play Festival.

It is featured in an upcoming PBS documentary by Rob Levi about "how America makes theater."

It is produced in association with Los Angeles' Center Theatre Group.

It features a cast of nine, a small orchestra, a dance team, video animation and a mountain lion!

It is not just a show, it's also surrounded by a transmedia shindig which includes food, games, and wild western fun.

---
I'VE NEVER BEEN SO HAPPY features the extraordinary performing / design / production talents of
:
Cami Alys, Kerri Atwood, Lowell Bartholomee, Noel Gaulin, Thomas Graves, Amy Hackerd, Hannah Kenah, Jenny Larson, Lana Lesley, E. Jason Liebrecht, Erin Meyer, William Moses, Paul Soileau, Peter Stopschinski, Meg Sullivan, along with Eric Roach on guitar, four very fine string players
/
Laura Cannon (Portland), Dayna Hanson (Seattle), Miwa Matreyek (LA), Stephen Pruitt, Leilah Stewart
/
Woody Golden, Charlie Llewellin, Jazz Miller, Lorenza Phillips, Denise Martel, Rick Thompson, and two thoroughly awesome interns, Taylor McCaslin and Ashley O'Brien. And creating the carnival so far we have the fabulous Jodi Jinks, Kirk Lynn, Edmund Martinez, Robert Pierson, Rachel Shannon, Silky Shoemaker, and Aron Taylor.
I've Never Been So Happy
was selected for the
NEA Distinguished New Play Development Program
, and received a development residency at The University of Texas Department of Theatre & Dance's
Musical Theatre Initiative
. Creation support for
I've Never Been So Happy
also comes from
The Orchard Project Theatre Residency Program
, the National Recovery and Reinvestment Act of 2009, Arena Stage's
New Play Festival
, and the National Endowment for the Arts.