IN THIS ISSUE
1. You are invited to
Grrl
Wrap
, a celebration of arts projects by the year-round participants of
Grrl Action.
2.
Grrl
Action
summer program applications now available!
Download here
.
3. For information about becoming a year-round Rude Mechs
corporate sponsor
, or about sponsoring
The Eye Ball
, email Development Director Christian Stagg at
christian@rudemechs.com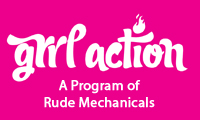 presents
Grrl
Wrap
a celebration of the new works by the participants of Year-Round Grrl Action

ADMISSION IS FREE!

no reservations needed
SATURDAY, MAY 14TH
AT 7:00 PM
at The Off Shoot, 2221 Hidalgo
the easternmost end of The Off Center complex
Come celebrate this year's participants of Grrl Action's year-round program with a presentation of the Grrls' work. Everyone is invited!

The format is a little different this year. We invite you to take in visual images of the grrls' art projects as they give a presentation on the process of developing, creating and performing their work this last year. Meet the amazing mentors who guided the grrls through these projects, and enjoy a cookie or three as we cheer the young artists on!


COME OUT AND SUPPORT THESE AMAZING YOUNG WOMEN!
And if you feel like you've got some time, cash, interest,
click here
to see how you can join the fun!
---
Grrl Action
Summer Workshop 2011
ACCEPTING APPLICATIONS NOW!


Grrl Action is a three-week summer workshop in which teenaged girls envision, create, publish, and perform original works for the stage based on their own life experiences. Girls between the ages of 13-16 are eligible.
WORKSHOP: June 27 - July 15, classes from 9:00am - noon, at The Off Shoot
PERFORMANCES: July 16 & 17, 2011 at 4:00 pm
WHERE: The Off Center, 2211-A Hidalgo St.
---

BECOME A SPONSOR!
The essence of the "new" Austin is found in its contradictions - our city's chic sophistication is still marked by a laid-back attitude, our fascination with high tech will probably never exceed our passion for Barton Springs, and you can still wear your shorts to a five star restaurant. But while Austin is still a small town at heart, it has nevertheless grown into a very big city over the past two decades. As we celebrate our continued growth, we also face the challenge of retaining our cultural character and uniqueness – the reason many people have chosen to make Austin their home in the first place. By supporting Rude Mechs, you have the opportunity to help define the character of our city and make a significant impact on the cultural life of our community. The reality is the arts cannot survive without support from local businesses and corporations. In this climate of growing enthusiasm but also stark economic realities, we invite you to make an investment in local arts and artists to help preserve and deepen the character of Austin.
If you are interested in becoming a corporate sponsor, let's get you on board by June 1st! Just send an email to
info@rudemechs.com
and let us know you are interested!